Our Priorities
God First | We purpose to bring God glory by placing our trust and hope in Him.
Safety | We purpose to provide a safe environment for everyone involved in our ministries.
Academics | We have been intentionally structured in such a way that our students will not get behind due to this pandemic or any other opposition that may arise.
Balance | We will provide a structured, managed risk. There will always be a risk of contagious viruses and diseases, but with the guidelines given by health and government agencies, as well as, the input given by parents and staff, we can find a balance that makes everyone comfortable.
Our Facilities
Our facilities will be sanitized regularly based upon the current threat level.
Our HVAC systems are being upgraded to better filter and bring more outside air into the classrooms.
We will expand our facilities to make social-distancing accommodations.
What we call the "Blue Classroom" will be divided and carpeted to house grade levels K4 through 2.
Our current sanctuary will be temporarily turned to multi-use to house grade levels 3 through 12.
We are in the process of building a new gym that would house our lunch room and indoor activities.
We will arrange the traffic patterns throughout the building to limit individuals passing within 6' of each other.
Students will sit with members of the same household when possible. All households will be separated by at least six feet from other students in the classroom.
Our students will still come to the teacher's desk for testing / tutoring.
Students need to move during the day, but when possible teachers will use MS Teams to limit some movement in the classroom.
Teachers' desk will have plexiglass installed between them and students, so teachers will not be required to wear a mask or face shield behind the shield.
There will be hand sanitizing stations in every classroom. Students will also be educated on proper hand washing methods and encouraged to wash their hands frequently throughout the academic day.
Academy Attendance & Truancy
If a student or any member of a student's household, is showing signs of any kind of sickness; including but not limited to: fever, cough, sneezing, upper respiratory, sore throat, body aches, etc. All students in the household are required to stay home.
Request prayer at http://pray.newlifeinchrist.com
Attendance will be based upon work completed. Advancement to the next academic grade level requires completion of the entire subscribed curriculum.
If a student remains sick and is unable to do their work, additional time will be allotted.
If a student remains at home for precaution, but their work remains up-to-date, their work will count towards attendance.
If a student remains at home without sickness, but their work falls behind, it is possible the student could be considered truant, and if they fall behind enough, not be promoted to the next grade level.
Our goal is to work with parents through this pandemic, but because we have the technology to provide academic excellence In-Class or In-Home, our academic decisions will be based upon work completed.
Our Guidelines
Our guidelines will change based upon the State of Ohio threat level for Lake County.* Click the button above for more information.
We are committed to keeping all participants safe and healthy. We believe that the threat of this virus is very real and we also believe that if we take the appropriate steps given to us by health professionals we will be able to safely educate. We will be diligent to protect ourselves from individuals who by, intention or neglect, fail in their duty to follow these safety guidelines.
Guidelines may change with new requirements or recommendations.
*Though our Pandemic Statistics on the far east end of Lake County are more comparable to Ashtabula County, having students from both counties, we will use the county with the highest risk level.
July 22, 2020 Update
Statewide Face Mask Mandate -
Masks must be worn at all times when:
➡️At an indoor location that's not a residence
➡️Outdoors, when unable to keep 6ft social distance from those not in your household
➡️When waiting for, riding, driving, or operating public transportation -taxi, car service, private rideshare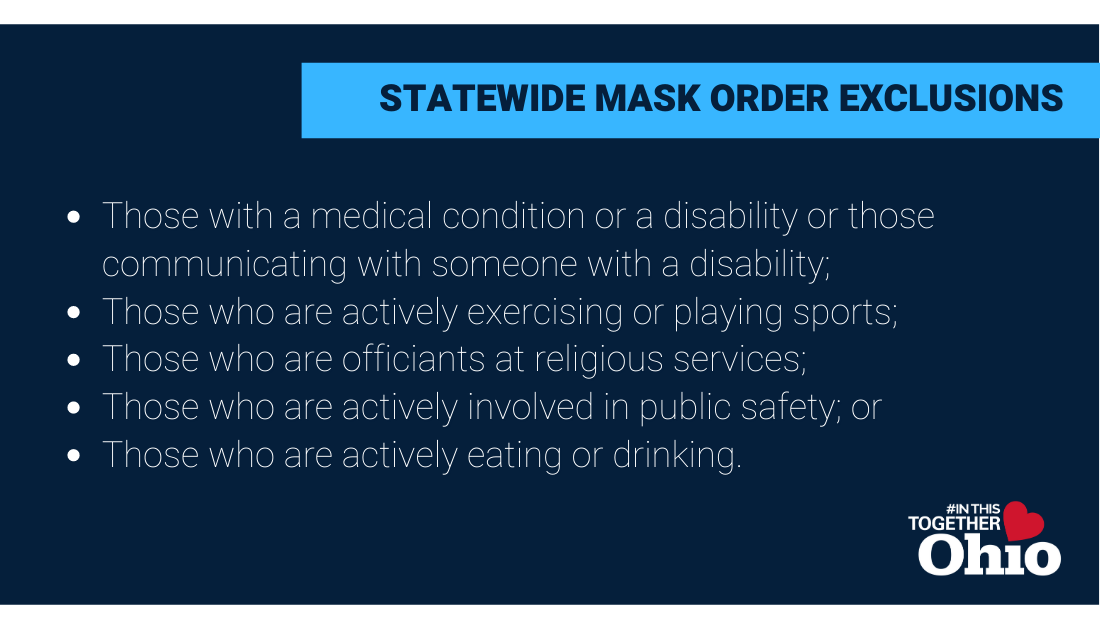 July 7, 2020 New Release stated: Schools that offer Kindergarten through Grade 12 instruction should follow the guidelines set forth last week by the Ohio Department of Education and the Ohio Department of Health.
These guidelines are published here: https://coronavirus.ohio.gov/static/responsible/schools/K-12-Schools-Guidance.pdf
Because of some additional steps that we have taken (some may not be shown), we feel that our current policy at level two does implement these guidelines. We will continue to review and update our policy as new information comes available.